As the temperatures continue to rise here in the sunny Okanagan Valley it makes it a little harder to keep flare ups at bay. In light of this we have put together a SBT Seabuckthorn Natural Eczema Solutions Prize Pack to help you beat the heat and heal your skin. This prize pack is valued at roughly $60.00 and contains our famous SBT Seabuckthorn Eczema & Dermatitis Soothing Salve, Therapeutic Lavender Shampoo, Tea Sample, and Therapeutic Tea Bar.
Eczema & Dermatitis Soothing Salve
Specially formulated with powerful healing, anti-inflammatory, and analgesic oils our SBT Seabuckthorn Eczema & Dermatitis Soothing Salve heals skin, reduces inflammation, and reduces the pain and itch associated with flare ups. Retail Value $19.95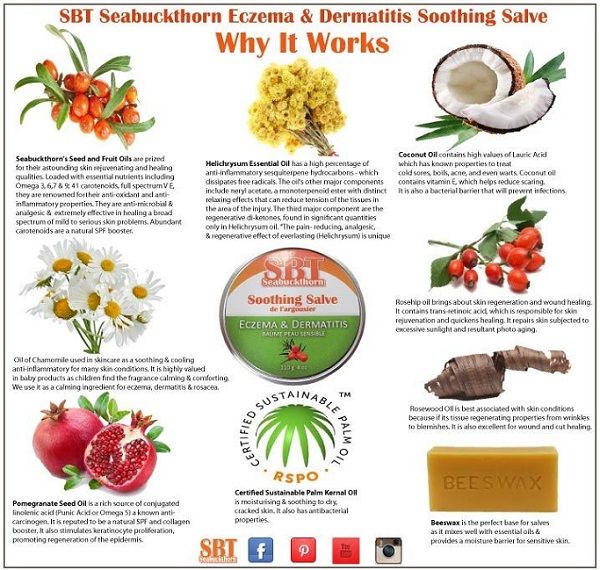 Therapeutic Lavender Shampoo
One of our four brand new SBT Seabuckthorn Therapeutic Shampoos! Our Therapeutic Lavender Shampoo was an instant crowd pleaser. Generous amounts of SBT Seabuckthorn Seed and Fruit Oil help condition and moisturize while cleansing to leave your tresses squeaky clean, moisturized, and shiny (there's a very valid reason sea buckthorn means 'shiny horse'). Lavender Oil contains strong anti-microbial properties (as do sea buckthorn oils) and helps promote hair growth & prevent hair loss by increasing blood circulation to the scalp. Retail Value $19.95
For Abby Lai's Review of our SBT Therapeutic Lavender Shampoo
Tea Sample
I could talk about this tea forever! It is wild crafted and hand picked from the very same sea buckthorn trees that our USDA Organic certified oils come from. It contains 24% protein, fatty acids, vitamins, minerals, flavonoids, polyphenols, and high values of calcium, potassium, magnesium, beta carotene, and Vitamin E. To put it simply this tea is a nutritional power house that helps your skin from the inside out. Retail Value $2.95
Learn how SBT Seabuckthorn Tea can help combat bacterial infections
Therapeutic Tea (Cleansing) Bar
Our Therapeutic Tea Bar is the only cleansing bar in the world that contains the powerful anti-inflammatory sea buckthorn tea extract. All of those wonderful vitamins, nutrients, fatty acids etc. mentioned above are found in this lovely little hand made, hand polished, and hand wrapped therapeutic cleansing bar. Retail Value $13.95
All products are available at seabuckthorn.com
Please follow the rafflecopter link below to enter the contest –
This giveaway will be open from August 7th to the 18th at midnight. Open to those residing in North America. To enter fill out the information needed and follow the instructions for the various entry methods. Good luck everyone!